Friday, June 14, 2019
Congratulations to Cristel Claman, Founder and CEO of Roots Editions Publishing, for acquiring the exclusive global rights to French translated publication Malcolm Little: The Boy Who Grew Up to Become Malcolm X.
Sunday, February 22, 2015 at 10:54 AM EST
"Saturday was the 50th anniversary of Malcom X's assassination. Approximately 300 people gathered for a ceremony at the site in Washington Heights where the activist was killed. NY1's Mahsa Saeidi filed this story.
50 years later, Ilyasah Shabazz leads a moment of silence to commemorate her father's assassination."
FEBRUARY 20, 2015 10:05 AM EST
Excerpt:
"On a quiet winter's morning at the Audubon Ballroom, with its small exhibit and sole staff member on the premises, some of these plans seem far from fruition – but Malcolm X continues to be a powerful figure in the political consciousness and a widely accepted part of the American story. In 1972, Malcolm's widow, Betty Shabazz, dined with Richard Nixon, and in 1999 the US Postal Service issued a Malcolm X stamp in his honour – something the man himself might have found unbelievable."
Posted: Feb. 17 2015 4:36 PM
"Some have argued that the government was complicit in his death; others have argued that his public feud with NOI leader Elijah Muhammad may have led to his assassination. On Tuesday at 9 p.m., CNN premieres Witnessed: The Assassination of Malcolm X, a special report that asks some of those who were there when the shooting occurred—photographer and friend Earl Grant, former radio reporter Gene Simpson, Malcolm X's daughter Ilyasah Shabazz and Peter Bailey, an associate of Malcolm's—to share their memories."
By Amber Helsel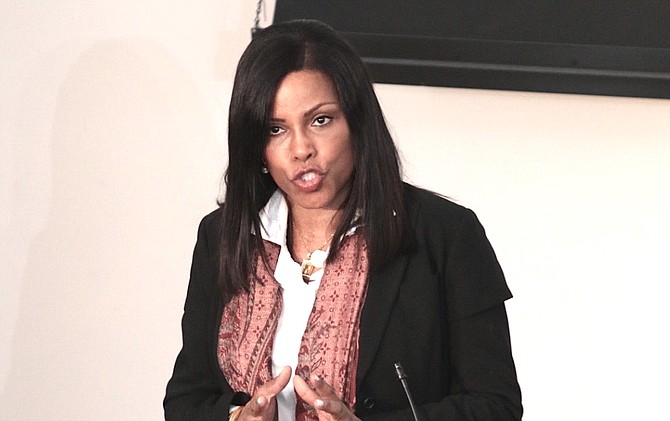 This Thursday, Feb. 19, marks 50 years since the assassination of black-freedom activist Malcolm X. His daughter, Ilyasah Shabazz, challenged students at Jackson State University this morning to "take up the baton" for the rights of African Americans, a press release said.
#Shabazz was the keynote speaker for the 2015 Black History Makers Forum, this year entitled "Celebrating the Life of Malcolm X." She was born in Queens in New York City on July 22, 1962. Her parents, Malcolm X and Betty Shabazz, were then followers of Elijah Muhammad, the then-leader of the Nation of Islam, a black nationalist group. They later split with the organization.
February 8, 2015
"It's been fifty years since Malcolm X was murdered, and many people don't know his story beyond his "by any means necessary" line – and there's so much more to this intelligent, charismatic, inspiring leader. Now, his daughter, Ilyasah Shabazz, has written an engaging, colorful novelization of his young years as Malcolm Little and through his mid-twenties, called X: A Novel."
Ilyasah Shabazz commemorates 50th anniversary of her father's murder
Posted: Thursday, January 22, 2015 10:30 am | Updated: 11:26 am, Thu Jan 29, 2015.
"Taking her place in the front of a classroom, Shabazz suggested to her audience the need to "address the deep-rooted problems of racism" that still exist, as they had during her father's lifetime. Her father "would applaud the activists" of today, she said. "Finding solutions to the ongoing problem is the key if we want to end it."
She took on the role of teacher, at times addressing her comments directly to the youngsters in attendance.
As part of her presentation, Shabazz read aloud excerpts from her children's book, "Malcolm Little: The Boy Who Grew Up to Become Malcolm X," and later signed copies of her most recent publication, a novel for young adults called simply "X."
Posted: Jan. 23 2015 3:00 AM
"This debut novel by Shabazz, co-written with Kekla Magoon, is an intimate imagining of Malcolm X that humanizes the great leader and makes him accessible for readers of all ages.
Set against the horrific racial violence suffered by African Americans in the first part of the 20th century, X: A Novel  is a powerful coming-of-age tale of going out into the world, getting lost and finding yourself.
Here, Shabazz crafts a love song to her father and to all the little black children of that time whose potential went unrealized because of segregation and discrimination."
BY JARED MCCALLISTER
NEW YORK DAILY NEWS
Sunday, January 18, 2015, 9:45 AM
"The Merrick Academy charter school in Queens marked both the birthday of the late civil rights leader the Rev. Martin Luther King Jr. and the legacy of human rights activist Malcolm X with recent programs at the school.
Dabney Montgomery, a member of the World War II era Tuskegee Airmen who was also a special assistant to King, was guest speaker at the school's Jan. 15 event.
And on Jan. 17, a VIP community reception was held to honor Malcolm X, featuring his daughter Ilyasah Shabazz, who is a community organizer, activist, motivational speaker, and author."
New York Newsday :
By DARRAN SIMON
Only a few hands sprang up Saturday when Ilyasah Shabazz asked a roomful of children in Queens if they'd heard of Malcolm X.
So — as the 50th anniversary of her father's assassination nears — Shabazz told them stories about the civil rights leader, focusing on lessons learned from a difficult childhood.
"If you haven't yet accomplished your goal, you just have to think a little bit harder and you're going to be more clever than you were the first time," she said. "Keep persevering."

Ilyasah Shabazz
By Deborah Gardner Walker
salem@wickedlocal.com
Posted Jan. 15, 2015 @ 4:28 pm
Award-winning writer, producer, activist and motivational speaker Ilyasah Shabazz, the third daughter of Muslim minister and human rights activist Malcolm X, headlines Salem State University's weeklong series of activities to commemorate the birthday of Dr. Martin Luther King, Jr.
The university's 25th anniversary MLK celebration kicks off with a candlelight vigil at 4:30 p.m. on Monday, Jan. 19 and finishes with the Convocation at which Shabazz will speak on Monday, Jan. 26 at 11 a.m. The celebration will also recognize the 50th anniversary of the Voting Rights Act of 1965, considered the most effective piece of civil rights legislation ever enacted in this country.
Read the full article
X: A Novel narrated by Dion Graham
"A gripping, moving, and illuminating production."
"Depicting the formative years of Malcolm X, narrator Dion Graham captures the great humanity of the civil rights leader who is most known for his angry, confrontational style.
Hooking listeners with his dynamic rendition of the opening scene, Graham portrays Malcolm on the run in Harlem, and then moves deftly between the bravado of his teen years and the vulnerability of his childhood in periodic flashbacks."
Read the full article / Listen to "audiobook" sample
Merrick Academy Charter School Honors Ilyasah Shabazz, Author and Daughter of Famed Civil-Rights Leader Malcolm X
—
NEW YORK, Jan. 13, 2015 /PRNewswire/ — The Merrick Academy of Springfield Gardens, Queens, one of the first Charter Schools to open in New York City, will hold a Community Reception to honor Ilyasah Shabazz, an author and the daughter of the legendary civil-rights leader, Malcolm X, Saturday, January 17, 2015, at 3 PM. 
by Jeanne Muchnick  Events   01/10/15
NEW ROCHELLE, N.Y. — She's a community organizer, activist, motivational speaker, mentor, and author, but at Alvin & Friendsrestaurant on Thursday, Ilyasah Al-Shabazz, the third daughter of human rights activist Malcolm X, felt more like a neighbor.
As part of a partnership with Larchmont's Voracious Reader Bookstore, Al-Shabazz, a New Rochelle resident, spoke to an intimate group about her latest book, "X: A Novel," a young adult story that follows her famous father from ages 14 to 19.
Monica Edinger – Huffington Post
Teacher, Writer, Critic
"Fictionalized history is a tricky business. On the one hand, the past is a wealth of fascinating material for use in creating imaginary worlds. On the other hand, those doing that creating can't go wild, they must honor the historical truth the best they can, especially when they are writing about real people from not so long ago. And so we come to X: A Novel, a gritty and glorious rendering of Malcolm X's youth by his daughter Ilyasah Shabazz with Kekla Magoon."
Don't miss this opportunity to sample the extraordinary local restaurant and to meet New Rochelle's own Ilyasah Shabazz, daughter of Malcolm X and Betty Shabazz. Ms. Shabazz is a community organizer, activist, and author, most notably of "Growing Up X."
Her latest book is "X: A Novel," co-written with acclaimed author Kekla Magoon, for young adults ages 14 and up and receiving wide acclaim. >>>Read more
Sep 28, 14 by Deron Dalton
*It's a new perspective on the famous activist.
Malcolm X's daughter, Ilyasah Shabazz, authored a book about her father's childhood — a different perspective of the boy who grew up to become Malcolm X.
The new novel, "Malcolm Little" tells the story of him as his father was murdered, his mother was committed to a mental institution and the racism he endured that led him to become Malcolm X.
Shabazz was very little when her father was assassinated in 1965. Her adaptation of her father's life sets the foundation of who he would later become.
February 22, 2014
Matia Peebles
a native of Newark, NJ
a journalist for The Source Magazine and Her Source
The  daughter of a legendary leader makes her late night debut
Writer, Ilyasah Shabazz, appeared on the Arsenio Hall Show as she talked about her father and promoting her second book, Malcolm Little: The Boy Who Grew Up To Become Malcolm X.
She also discussed learning more about her father as she entered college at the age of 16 and how he always protected his girls from any danger.